Bred to perform, made to stay sound and a pure joy to ride
Colorful, quality performance horses are found at Leavin My Mark Quarter Horses. Dr. Bruce and Katherine Buller's program is centered on an outstanding dun quarter horse stallion named Ben Mark. They have been fortunate enough to keep six daughters, and one really awesome son named Leavin My Mark!
The Ben Mark and Leavin My Mark mares are capable of producing outstanding performance horses no matter what stallion they are bred to. And with their enjoyable dispositions, they are outstanding prospects for rodeo, ranching, youth activities, amateur, and "all-around" competition.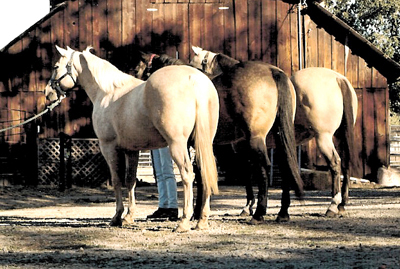 Bruce and Katherine are proud that their horses do most any event, not just one event. By design, they have tried to create better horses that last longer with each successive generation that they produce. The Bullers have been extremely selective in the quality of their bloodlines.
Leavin My Mark Quarter Horses are your reliable source for outstanding quality horses of Mr. Gunsmoke, Bueno Chex, and King Fritz bloodlines.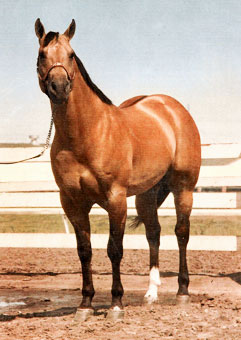 Ben Mark was a beautiful Dun Stallion of exceptional conformation and disposition. He was an excellent sire; his foals were very athletic and versatile. They are willing and able to do most any type of event(s) that you want to do. Bruce and Katherine raised 6 Ben Mark mares to keep, two of them out of Jessies Dream Bar (the last foal out of our original mare). Our wonderful dun stallion, Leavin My Mark, is also out of this same mare.
Leavin My Mark is siring great dun foals that are showing their worth as athletes! If you are searching for colored horses, we have several flavors: Duns, Buckskins, Grulla, Red Duns, Palominos, and Bay. The Leavin My Mark Quarter Horse horses are all foundation blood lines of exceptional quality and are eligible for registrations as FQHR, AQHA, NFQHA, PHBA, IBHA and ABRA.
The Bullers are proud to present a limited number of foals available for sale at the ranch.
Visit their website to see these outstanding prospects. They are bred to perform, made to stay sound, and a pure joy to ride!
Visit with them today!
Dr. Bruce & Katherine Buller
bullerbruce@att.net
8800 S. 4230 Rd.Chelsea, OK 74016
(918) 789-3423